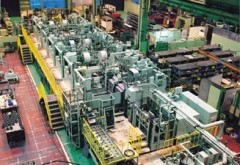 Enshu has a unique position in the machine tool marketplace in that we run an OEM parts manufacturing division using our Enshu machining centers. As our own toughest customer, this in-depth perspective has allowed us to pave the way as a global leader in the machine tool industry.
Over the years, we've utilized this arrangement as a testing ground for new technology. Each new model is required to run 2,000 hours in our production facility and is held to the highest of engineering standards to meet our own demanding expectations before it is released to the general market.
We even follow continuous improvement processes and formal programs on MTBF and MTTR to satisfy the tough automotive market.
Through this rigorous testing and design optimization, each Enshu machining center is built to provide superior performance and durability for year after year of reliable operation.