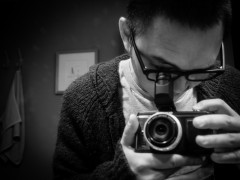 If you've met Inside Sales Specialist Dan Katayama, then you know he has a variety of hobbies that keep him busy in his (very little) spare time. Between his interest in vintage cars or taking his motorcycles out for a cruise, Dan always finds time to return to one love that he has carried with him since childhood: photography.
At the age of 13, Dan's father handed him his first camera. Gifted to him by a professional photographer in the 70's, his dad's Nikon Nikkormat FT2 carried more than its own exceptionally heavy weight. It was hard for him to use at first, but with the click of the shutter, Dan knew he was up for the challenge.
A few years after getting his Nikon, Dan decided to take a photography class. He realized quickly that he wasn't interested in the technical aspects and rules and thought the class to be far too formal. After the class ended, Dan continued to pursue photography, but on his own terms.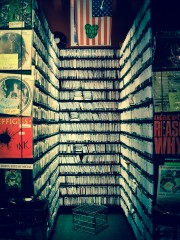 "You don't need to know anything about a camera. You just have to think about how your eyeballs work," Dan says. This wisdom he lives by, always thinking of the lens as a replica of the human eye. "Put your finger in front of your face, and everything gets blurry behind it. That's the f-stop. The shutter speed is just like how your eyes take time adjusting to a dark room."
Dan also takes inspiration from some of his favorite professional photographers, including Henri Cartier-Bresson, Daidō Moriyama, and Glen E. Friedman. Cartier-Bresson, the master of candid photos, only used a 50mm fixed lens, never a zoom. Dan takes Cartier-Bresson's ideology to heart and believes that "if you want to get closer— walk. If you want to get further—drive out. By moving, you'll most likely find something else to photograph along the way."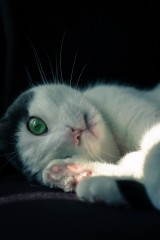 And that's just what Dan enjoys doing. Not one for planning trips to go take pictures, Dan likes to shoot everyday life as it comes. He always keeps his camera on him, ready when the moment arises. Photography is his outlet for spontaneity, even if he is just photographing his cat at home.
The most important photography lesson Dan lives by didn't come from another photographer or a class—it came from a fortune cookie. He still carries the fortune with him in his wallet as a constant reminder. On a tiny worn sheet, it reads: "Do not lose the moment while your camera captures the image."