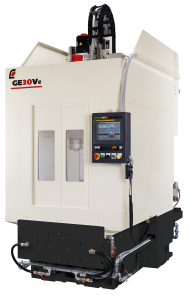 Enshu USA is pleased to introduce the newest in our line of Vertical Machining Centers, the GE30Ve. Specifically designed for the efficient production of small parts in a lean line, the GE30Ve is available with either a 13,000 RPM 30 taper or 8,000 RPM 40 taper spindle.
The 600mm x 600mm x 400mm travels (X, Y, Z) gives the GE30Ve the loading capacity and space needed for an NC rotary table. 50,000mm/min (1,969IPM) rapids, a FANUC 0i-MD Control and 24 tool capacity magazine are all standard.
With a narrow footprint of 1150mm x 3200mm, the GE30Ve allows for easy installation of multiple machines side-by-side within a limited amount of floor space, reducing transport time of the work piece. Easy overhead gantry access or robot loading enables multiple GE30Ve machining centers to be used with advanced unmanned automation systems.