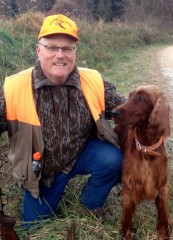 After 15 years with Enshu and over 30 years of experience in the manufacturing and machine tool industry, Mike Germann has learned the importance of manufacturing in the U.S., believing a society is measured by what it makes and leaves behind.
When Mike is not at work, he is enjoying spending time with his family and his true passion: breeding, showing and training his champion English and Irish Setters. With a love of these beautiful dogs, Mike recognizes the importance of giving these particular breeds a job from an early age, and enjoys working with them specifically for hunting. Their keen sense of smell makes them perfect for the sport, and their eager to please makes them a loving companion.
The newest chapter for Mike has been showing his dogs, in which one of his Setters has even gained the Best of Breed award along with numerous Master Hunter passes at local kennel clubs. It's clear his love of these dogs and his breeding and training program will be the legacy that he leaves behind for his family.