Donna has been crunching numbers at Enshu for four years. With an additional twenty years of accounting experience prior to joining us, she's always felt confident in her field. But when her family's home started to show its age this past year, she decided to try her hand at something that she had no experience in: carpentry.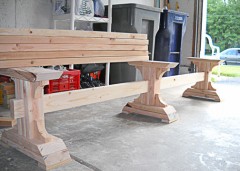 Initially, Donna didn't intend to start making furniture. It all started with her idea to turn the front room of her home into a dining room for entertaining. She enjoyed having large get-togethers and hosting holidays, but didn't have a big enough place for people to sit and eat. To fit everyone, she wanted a 9' table, but after seeing the prices of tables that size, she realized it was out of her budget.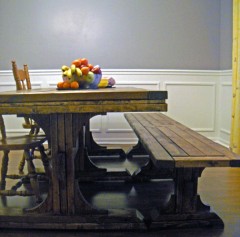 To look for a more affordable option, Donna turned to the Internet. Instead of a cheaper table, she found step-by-step plans for how to make her own. Thus, her new project began.
After six months of hard work and a lot of wood, Donna not only had the 9' table she wanted, but she also constructed a matching bench and sideboard. She stained all the furniture dark walnut and painted the cabinets of the sideboard white. Beyond the furniture, she remodeled the entire dining room with new paint, trim, and laminate flooring.
Since her project, she's been able to host holiday parties and fit everyone around the new table. Not only was her furniture more cost-effective, but it also gave Donna the skills and confidence to work on new projects around her home. "Before the remodel, I never considered myself handy. I was in accounting—the last thing I built was a lamp in shop class. But, with a few mistakes here and there, I was able to construct the furniture I wanted. Now I can go in my dining room and be proud of the work I did."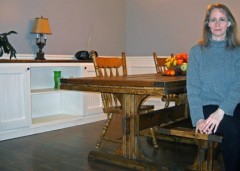 And this is just the beginning. Donna plans on doing more projects around her house, including finalizing the decorations in the dining room and possibly making a bench for the entryway.
To those considering starting their own project, Donna has a word of advice: "Don't be afraid to do things. Get outside of your realm and try something new—you'll be happy you did."